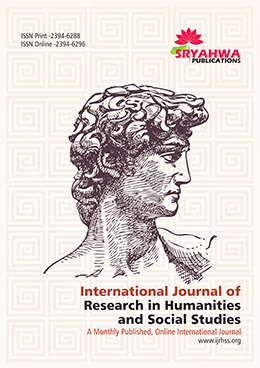 Paper Submission Guidelines
Authors are invited to submit the papers for IJRHSS through E-mail : editor@ijrhss.org. Submissions must be unique and should not have been published earlier or be under consideration for publication while being evaluated for this Journal. Authors shall adopt the IJRHSS template while preparing their papers. Papers submitted without adhering to the IJRHSS template will be summarily rejected.
IJRHSS is a monthly peer reviewed online journal.
The IJRHSS invites paper contribution in the following categories:
Original research
Survey / Review articles, providing a comprehensive review on a scientific / research topic
Extended version of conferences / Journals / Workshops
Fast Communications: Short, self-contained articles on ongoing research
Technical Notes
Guidelines to Contributors
Manuscripts are to be submitted to

editor@ijrhss.org

. Please submit the manuscript as MS Word file.

Click Here to Download the Template
All manuscripts must be the author(s) original, un-published work and must not be under - consideration for publication elsewhere.

Each manuscript must include a 100 to 150 word abstract and a list of 5-to-7 keywords. The article length must be less than or equal to 10 pages.

A research article must have the following sections depends upon the type of paper such as Research paper or survey paper or study paper:


Title of Research Paper
Author's affiliation with name, designation, departtment, college, place, country
Abstract With Keywords

INTRODUCTION
BACKGROUND OR RELATED WORK
PRESENTATION OF THE MAIN CONTRIBUTION OF THE PAPER/ SCOPE OF RESEARCH
PROPOSED METHODOLOGY AND DISCUSSION
EXPERIMENTAL RESULTS
CONCLUSIONS
ACKNOWLEDGEMENT
REFERENCES
BIOGRAPHY WITH PHOTO.

Authors should submit proof readied and revised article. Before submission please make sure that your paper is prepared using the IJRHSS paper template. This will ensure the speedy process for publication.
Once the paper is accepted, the author(s) are assumed to send copyrights of the paper over to IJRHSS. If any copyrighted material is used by the author, the author must take permission for the same from the editor.
Copyright
Authors shall be required to ensure that their papers submitted for publication are not violative of provisions of copyright act, whatsoever, in order to avoid legal complications in future.
IJRHSS will send the copyright form after accepting the submitted paper.
Authors shall be required to transfer the copyright of each publication to IJRHSS by signing the copyright form.
Review Process
All manuscripts are blind peer reviewed by the editorial board and assigned reviewers. Decisions will be made as rapidly as possible, and the journal strives to return reviewer's comments to authors within 2 weeks. The editorial board will re-review manuscripts that are pending for revision. It is the goal of the IJRHSS to publish accepted manuscripts within 2 weeks after submission.
Governing Law and Venue:
These terms and conditions shall be governed by and construed in accordance with the laws of India, without regard to its conflicts of law principles. You hereby submit to and agree that the sole jurisdiction and venue for any actions that may arise under or in relation to the subject matter hereof shall be the courts located in Hyderabad,INDIA.